Affordable Infill Housing: Five Case Studies
Release Date:
July 1987 (124 pages)
Posted Date:
January 8, 2021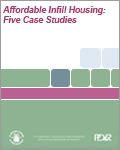 This historic report details five case studies on the topic of affordable infill housing. The five infill projects were able to decrease costs and enhance affordability by dispensing with unnecessary or antiquated regulations or building methods, in accordance with the mission of HUD's Joint Venture for Affordable Housing. The five case studies all took place in the Eastern United States, in: Albany, New York; Burlington, Vermont; Louisville, Kentucky; Orange, New Jersey; and Springfield Massachusetts.

This report is part of the collection of scanned historical documents available to the public.