AFFORDABLE RENTAL HOUSING: LOST, STOLEN, OR STRAYED?
Release Date:
May, 1996 (32 pages)
Posted Date:
May 28, 1996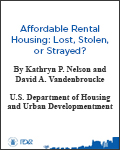 Losses of units affordable to poor renters have been repeatedly lamented. This study investigates the dynamics underlying net losses by exploiting the longitudinal capability of American Housing Surveys taken at 4-year intervals between 1985 and 1992 in 41 metropolitan areas (MAs). It examines six sources of gain or loss- rent filtering, new construction, permanent loss, temporary loss to nonresidential use, tenure shifts, and unit conversion or merger -- to assess their gross and net effects on six affordability ranges of unsubsidized rental housing.

This report is part of the collection of scanned historical documents available to the public.