Affordable Single-Family Housing: A Review of Development Standards
Release Date:
August 1984 (124 pages)
Posted Date:
December 31, 2020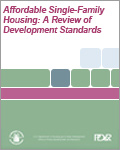 This historic report, a product of the American Planning Association and the Joint Venture for Affordable Housing, presents an analysis of standards and regulations that unnecessarily raise home prices, followed by a series of case studies demonstrating the actions that individual localities have taken to alleviate these cost burdens. The report features four case studies, highlighting efforts in San Antonio, Texas; Riverside County, California; Dade County, Florida; and Fort Collins, Colorado.

This report is part of the collection of scanned historical documents available to the public.