Alternative Housing Arrangements: A Selected Information Guide
Release Date:
October 1985 (23 Pages)
Posted Date:
December 17, 2018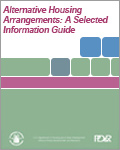 This historical document, prepared for the Office of Policy Development and Research, provides information and resources about alternative housing arrangements. The publication describes and compares three alternative housing arrangements: accessory apartments, ECHO housing, and home sharing.

This report is part of the collection of scanned historical documents available to the public.