Americas Homeownership Gap: How Urban Redlining and Mortgage Lending Discrimination Penalize City Residents
Release Date:
February 1998 (9 Pages)
Posted Date:
December 17, 2018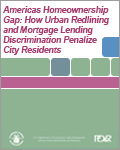 This historical report published by the United States Conference of Mayors presents evidence that discriminatory lending practices disproportionately impact urban neighborhoods and residents of cities. The authors call for a renewed commitment to eliminate discriminatory lending practices and expand homeownership opportunities in urban America.

This report is part of the collection of scanned historical documents available to the public.