An Analysis of Alternate Measures of Tenant Benefits of Government Housing Programs with Illustrative Calculations from Public Housing
Release Date:
November 1969 (20 pages)
Posted Date:
April 19, 2020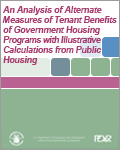 This historic document is an academic paper reviewing various methods of measuring the benefits that government housing programs afford to tenants. The paper discusses several possible means of determining benefit to program participants, and several mathematical formulas for expressing these benefits numerically, for use in cost-benefit analysis. Author Edgar O. Olsen was a staff economist at the Rand Corporation, while James R. Prescott was an associate professor of economics at Iowa State University.

This report is part of the collection of scanned historical documents available to the public.