Annandale-Huguenot Area Urban Renewal Designation
Release Date:
April 1963 (6 pages)
Posted Date:
October 1, 2019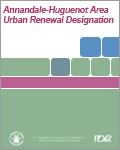 This historic report, prepared as part of the 1962-1963 Urban Renewal Study Program, outlines the City Planning Commission's policy goals and renewal objectives for the Annandale-Huguenot Area in the borough of Richmond. The Commission's five goals include increasing the supply of housing in the area, minimizing household relocations, and strengthening the area's economic base. The document additionally provides accounts of public hearings and other proceedings related to the redevelopment of this area.

This report is part of the collection of scanned historical documents available to the public.