Applications for Occupancy in Family Dwelling Units on Public War Housing Projects
Release Date:
February 1946 (31 pages)
Posted Date:
July 2, 2020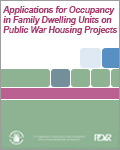 This historic bulletin describes FPHA administrative procedures regarding the distribution, filing, processing, and approval of war housing residency application forms. These forms were distributed by FPHA regional offices to local authorities and housing managers, and used by war workers, distressed families, and families of veterans to apply for tenancy in war housing projects.

This report is part of the collection of scanned historical documents available to the public.