Architectural Drawing, Part 1
Release Date:
January 1962 (41 pages)
Posted Date:
March 27, 2018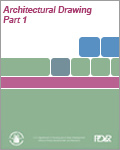 This third-edition textbook, compiled for use by students enrolled in classes through the International Correspondence Schools, provides an introduction to architectural drawing. This is part one of two parts.

This report is part of the collection of scanned historical documents available to the public.