Assisted Living Conversion and Service Coordinator Programs Application
Release Date:
January 2001 (104 pages)
Posted Date:
June 5, 2018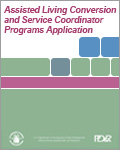 This historical document includes application kits for the Assisted Living Conversion Program and Service Coordinator Program for Fiscal Year 2001. The kits contain instructions and materials to guide applicants seeking grant awards under these two programs.

This report is part of the collection of scanned historical documents available to the public.