Assuring Quality in Assisted Living: Guidelines for Federal and State Policy, State Regulation, and Operations
Release Date:
April 2003 (349 pages)
Posted Date:
January 31, 2019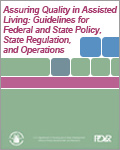 This 2003 report to the U.S. Senate Special Committee on Aging provides recommendations for policy relating to assisted living facilities for seniors. The document describes recommended policy for a range of topics, including affordability, medication management, resident rights, and facility staffing. The report was prepared by the Assisted Living Workgroup, a grouping of several dozen organizations concerned with health care, aging, disability, consumer advocacy, and more.

This report is part of the collection of scanned historical documents available to the public.