Average Costs of Developing the United States Housing Act Program
Release Date:
April 1947 (42 pages)
Posted Date:
July 20, 2020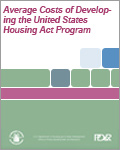 This historic report, prepared by the FPHA's Statistics Division, details the average cost of developing public housing projects administered under the United States Housing Act Program. The calculations in the report are based on a survey of public housing projects carried out in 1944. This publication is the second in a two-part series, with the first report detailing the methodology of the survey and the specifics of the Housing Act Program published in September 1946.

This report is part of the collection of scanned historical documents available to the public.