Behavioral Factors for Elderly Housing Design
Release Date:
September 1978 (44 pages)
Posted Date:
January 31, 2019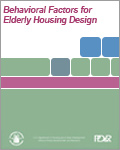 This historical document is a booklet developed for the New England Non-Profit Housing Development Corporation's "Housing Alternatives for Senior Citizens in New England" grant-supported model project. The publication was written to acquaint developers, architects, and related professionals with environmental design issues specific to housing for the semi-independent elderly.

This report is part of the collection of scanned historical documents available to the public.