Case Studies of Effective Management Practices within Public Housing Agencies, Volume 2: Maintenance and Custodial
Release Date:
November 1985 (146 pages)
Posted Date:
January 8, 2021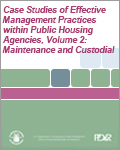 The second in a six-part series, this historic report documents the conditions, policies, and procedures of three public housing authorities (PHAs) which the author has identified as especially successful in the area of maintenance. This volume showcases a small, medium, and large PHA, in the form of the Cumberland, Maryland Housing Authority, the Housing Authority of Lawrence County, Pennsylvania, and the Huntsville, Alabama Housing Authority, respectively.

This report is part of the collection of scanned historical documents available to the public.