Capital Needs Assessment: Multifamily Rental Housing With HUD-Insured (or - Held) Mortgages
Release Date:
November 1992 (102 pages)
Posted Date:
June 23, 2021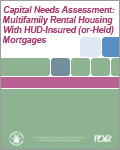 This historic publication assesses the capital needs of federally assisted multifamily rental properties that are distressed. The U.S. Department of Housing and Urban Development (HUD) prepared this report in compliance with Section 204(c)(1) of the HUD Reform Act of 1989. This report was prepared by HUD staff and was based upon a work-in-progress by Abt Associates, Inc. entitled Assessment of the HUD-insured Multifamily Rental Stock.

This report is part of the collection of scanned historical documents available to the public.