Caribbean Commission: The Development of Low-Cost Housing Through Cooperatives
Release Date:
January 1957 (31 pages)
Posted Date:
September 13, 2018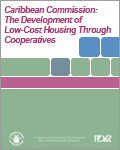 This historical document, prepared by staff of the International Cooperation Administration of the United States, discusses the procedures and methods utilized by housing development cooperatives for the production of low-cost housing. The authors then explore how these programs may be adapted for use in the Caribean. The document was prepared for the seventh session of the West Indian Conference.

This report is part of the collection of scanned historical documents available to the public.