Case Studies of Effective Management Practices within Public Housing Agencies, Volume 4: Finance and Accounting
Release Date:
November 1985 (178 pages)
Posted Date:
February 18, 2021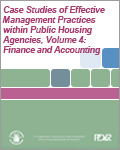 The fourth in a six-part series, this historic report documents the conditions, policies, and procedures of four public housing authorities (PHAs) which the authors have identified as especially successful in the area of finance and accounting. This volume showcases a small, medium, large, and very large PHA, in the form of the Beaufort, South Carolina Housing Authority; the Housing Authority of Miridian, Mississippi; the Norfolk Redevelopment and Housing Agency in Norfolk, Virginia; and the Housing Authority of Baltimore City, Maryland.

This report is part of the collection of scanned historical documents available to the public.