Certificate Regarding Tenants Admitted to Low-Rent Housing
Release Date:
November 1961 (395 pages)
Posted Date:
May 11, 2020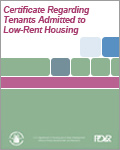 This historic memo, issued by the commissioner of the HHFA's Public Housing Administration to the directors of local housing authorities, describes new procedures and requirements relating to the certification of the income of tenants of affordable housing developments. The instructions reflect changes to the process incurred by the 1961 amendment to the U.S. Housing Act, and revised forms are attached to the memo.

This report is part of the collection of scanned historical documents available to the public.