Affordable Housing Challenge and Response, Volume II: Affordable Residential Construction – A Guide for Home Builders
Release Date:
July 1987 (84 pages)
Posted Date:
January 8, 2021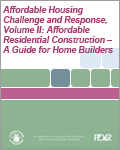 This historic guidebook is the second publication resulting from the Affordable Housing Demonstration Projects of HUD's Joint Venture for Affordable Housing program, a public-private partnership launched in 1982 to investigate the promotion of housing affordability through regulatory reform. The first of two publications to come out of the project, this report addresses building code, materials, design, construction systems, and marketing methods.

This report is part of the collection of scanned historical documents available to the public.