Confirmation of Tenants' Account Balances
Release Date:
July 1948 (5 pages)
Posted Date:
July 20, 2020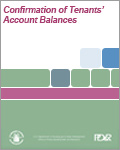 This historic bulletin, intended for use by local public housing managers and auditors, discusses procedures for confirming tenant balances. The publication describes a new procedure in which the auditor in charge of a given PHA's annual financial reporting must instruct a sample of tenants in the use of form PHA-AUD 17, "Request for Confirmation of Tenant's Balances." This form is included in the document.

This report is part of the collection of scanned historical documents available to the public.