Design for Affordable Housing: Cost Effective/Energy Conserving Homes
Release Date:
January 1983 (52 pages)
Posted Date:
February 10, 2021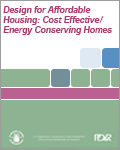 This historic publication is a catalog of energy-efficient housing plans, available for sale by Steven Winter Associates, Inc. The plans themselves were drawn up by HUD's Joint Venture for Affordable Housing, a public-private partnership and demonstration project launched in 1982 to investigate the promotion of housing affordability through regulatory reform, careful site planning, and cost saving construction methods.

This report is part of the collection of scanned historical documents available to the public.