Housing Discrimination Study: Replication of 1977 Measures Using Current Data
Release Date:
October 1991 (113 pages)
Posted Date:
July 1, 2021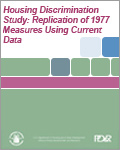 This historic publication is part of the Housing Discrimination Study which was sponsored by the Department of Housing and Urban Development's Office of Policy Development and Research. The report is meant to replicate as closely as possible the measures of discrimination against black homeseekers that were reported in HUD's first national fair housing audit study – the Housing Market Practices Survey.

This report is part of the collection of scanned historical documents available to the public.