Evaluation of the Low-Income Housing Tax Credit — Final Report
Release Date:
February 1991 (191 pages)
Posted Date:
February 10, 2021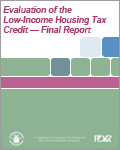 This historic report is an evaluation of the low-income housing tax credit (LIHTC) program, a federal program created via the Tax Reform Act of 1986 to promote the development of affordable rental housing funded by private equity. This study investigates the LIHTC program's outcomes, such as: the type, number, and location of developments resulting from the program; the characteristics of tenant households served; the amount of equity raised; the return that equity investors receive; and how the program compares to other affordable housing programs. The authors use two data sources: the National Council of State Housing Agencies database of LIHTC properties developed in 1987 and 1988, and a survey of 104 randomly-sampled LIHTC developments.

This report is part of the collection of scanned historical documents available to the public.