FHA Loan Limits and County Land Area
Release Date:
June 2019 (10 pages)
Posted Date:
June 7, 2019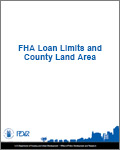 This study, directed by Congress, examines the impact of the expiration of the Economic Stimulus Act of 2008 (ESA) on the single-family mortgage insurance program on the Federal Housing Administration (FHA). FHA loan limits reverted from 125 percent when the ESA was in force to 115 percent of the area median house price, and the statutory ceiling on area median housing price fell from 175 percent to 150 percent of the conventional conforming limit used by the government-sponsored enterprises. The analysis examines FHA single-family loan limits in 2013 and 2014 for 1,789 counties in Core-Based Statistical Areas (CBSAs). Nearly two-thirds (1,177) of these counties had no change in loan limits during the study period, but changes in the remaining 612 counties ranged from a 63 percent decline to more than a 63 percent increase. Notably, the largest changes in loan limits were caused by the redefinition of CBSA boundaries and not by the change in the formula used to compute loan limits. The analysis also examines the change in FHA loan limits relative to county land area, the distribution and variability of home values within large and small counties, the share of county census tracts by county size for which at least 75 percent of the housing stock is eligible for FHA insurance, and the impact of loan limit changes on actual mortgage lending by county size.