FHA's Rental Housing Program
Release Date:
January 1965 (5 pages)
Posted Date:
February 10, 2021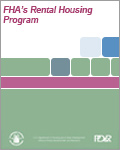 Prepared by the Office of Public Information of the Federal Housing Administration (FHA), this historic consumer bulletin describes the purpose and function of the FHA's multifamily rental housing program. Through this program, the FHA insures the mortgages of eligible multifamily rental properties. Properties must have eight or more units, be financially sound, adhere to fair housing rules, and meet a variety of other standards.

This report is part of the collection of scanned historical documents available to the public.