Financing the American Dream: Best Practices in Affordable Homeownership Lending
Release Date:
January 1999 (16 pages)
Posted Date:
December 31, 2020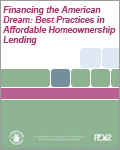 At the urging of federal policy and following the Federal Housing Enterprise Financial Safety and Soundness Act of 1992, many institutions within the home mortgage lending industry began to develop affordable loan programs that reached out to underserved communities. This historic report is a guide to industry best practices for the development and management of such affordable lending programs.

This report is part of the collection of scanned historical documents available to the public.