Frost-Protected Shallow Foundations: Phase II, Final Report
Release Date:
June 1994 (49 pages)
Posted Date:
February 2, 2021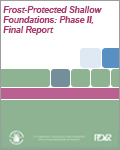 This historic report is the second and final phase of an investigation into frost-protected shallow foundation (FPSF) technology. A FPSF is a practical construction method in cold climates where more costly conventional foundation methods are typically used. The report found that houses and other structures may be built on shallow, slab-on-grade foundations in cold climates when properly insulated to protect against frost heave.

This report is part of the collection of scanned historical documents available to the public.