Future Role of FHA
Release Date:
January 1977 (158 pages)
Posted Date:
February 10, 2021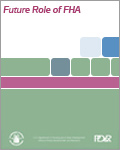 This historic report reviews the history and suggests a future role for the Federal Housing Administration (FHA), a government agency founded in 1934 to insure mortgages and in so doing stimulate residential construction, expand homeownership opportunities, and ensure a balanced flow of mortgage credit. By the mid-1970s, the FHA was no longer insuring the volume of mortgages it had in decades past; the authors suggest that the administration's new role should be to expand homeownership to demographics traditionally underserved by the private market through a variety of means.

This report is part of the collection of scanned historical documents available to the public.