How to Know Architecture: the Human Elements in the Evolution of Styles
Release Date:
November 1910 (335 pages)
Posted Date:
April 24, 2020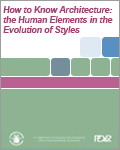 This text, published in 1910, is a historic review of European and American architecture from antiquity to the modern period. Wallis groups historic architectural styles into four periods: the pagan, Christian, intellectual, and modern. The 335-page document contains many illustrations and photographs.

This report is part of the collection of scanned historical documents available to the public.