Impediments to PHA Reimbursement for Surveys and Solutions to Address Delays in HUD's Annual Calculation of Fair Market Rents
Release Date:
August 2019 (20 pages)
Posted Date:
August 20, 2019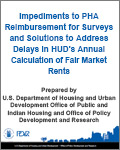 This report provides an overview of how HUD calculates FMRs, including significant recent changes, as well as possible options for further updates and improvements. The report also responds to the Senate Appropriations Committee direction for additional information on the FMR calculation process. Specifically, the Senate Committee Report accompanying the fiscal year FY 2019 Transportation-HUD Appropriations bill required HUD "to identify the statutory, regulatory and cost barriers PHAs face in conducting and receiving reimbursements" for local market rent surveys used to request adjustments to HUD's Fair Market Rents. The Committee Report further required HUD to address "solutions to address delays in HUD's annual calculation of FMRs for rental markets that are rapidly increasing in value." A number of options for improved local FMR calculations are discussed, including changes to the factors used for estimating rent inflation and local trends, along with potential limitations or drawbacks of such options. In terms of PHAs' use of local rent surveys, the report finds that while PHAs have legal authority to use their existing HUD funding for administrative expenses for such surveys, or to pursue outside funding and partnerships (e.g. with universities) to do so, funding limitations and practical considerations make this difficult in practice. Further, HUD itself does not have a separate, independent appropriations source to reimburse PHAs for local rent surveys and there would be significant difficulties and drawbacks to providing reimbursements out of existing appropriations for PHA administrative fees which are often pro-rated due to funding limitations.