An Analysis of Alternative Methods of Rural Home Repair
Release Date:
June 1973 (194 pages)
Posted Date:
January 8, 2021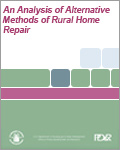 This historic report represents the Housing Assistance Council's evaluation of repair programs available to residents of rural areas in the early 1970s. The evaluation includes programs under the Farmers Home Administration.

This report is part of the collection of scanned historical documents available to the public.