Private Rental Housing in Industrialized Countries
Release Date:
January 1981 (54 pages)
Posted Date:
February 3, 2021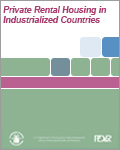 This historic report examines the conditions of private rental housing markets in "highly industrialized" countries throughout the world. The author discusses issues including regulation and rent control, condition of housing stock, means of encouraging nonprofit developers and landlords, and other methods for increasing private rental housing capable of providing low-rent accommodations.

This report is part of the collection of scanned historical documents available to the public.