Reducing the Development Costs of Housing: Actions for State and Local Governments — Proceedings of the HUD National Conference on Housing Costs
Release Date:
August 1979 (275 pages)
Posted Date:
February 3, 2021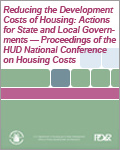 From February 25-27 1979, HUD held its National Conference on Housing Costs in Washington, DC. This historic publication constitutes the proceedings of that conference, and includes a forward, executive summary, conference schedule, introduction to the conference and to HUD's Task Force on Housing Costs, and a range of articles addressing the central issue. Epilogues list conference attendees and management.

This report is part of the collection of scanned historical documents available to the public.