Rehabilitation of Flood-Stricken Areas
Release Date:
October 1951 (7 pages)
Posted Date:
July 9, 2020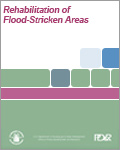 This historic report, prepared by the U.S. House of Representatives' Committee on Appropriations, discusses House Document 228. House Document 228 is a message from the President regarding recent flood disasters and requesting a $400 million budget to rehabilitate impacted areas.

This report is part of the collection of scanned historical documents available to the public.