Rental Housing Manual
Release Date:
January 1940 (314 pages)
Posted Date:
January 14, 2021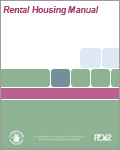 This historic manual details the policies and procedures of the Federal Housing Administration's Rental Housing Division, as established by the National Housing Act of 1937. Specifically, the manual outlines the administrative procedures for the insurance of mortgages for qualifying rental properties.

This report is part of the collection of scanned historical documents available to the public.