Strong Cities, Strong Communities National Resource Network Program Evaluation
Release Date:
September 2018 (127 pages)
Posted Date:
September 7, 2018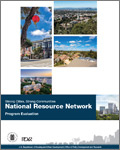 Initially funded with $10 million from HUD, the NRN provided direct technical assistance (TA) through five organizations: Enterprise Community Partners (lead organization); Public Financial Management, Inc. (PFM); HR&A Advisors; the International City County Management Association (ICMA); and the NYU Robert F. Wagner School of Public Services. Generally, the quality of the TA delivered was high and well-received in the target communities. However, the evaluation's overall assessment of the effectiveness of the program is inconclusive. The evaluation was unable to determine whether the TA was successful in addressing the overarching goal of the NRN – to "provide the most distressed US cities with the capacity to address their own underlying economic and fiscal plight in a workable manner." NRN TA engagements were viewed as a success and local representative indicated they thought their city would not have been able to accomplish the same tasks without the NRN assistance. In some cases, respondents indicated the outcomes of these engagement will take a long time to be apparent, and some sites expressed concerns about the sustainability of these changes due to issues with capacity and priority setting in their community.