Survivorship and Decrement Tables for HUD/FHA Home Mortgage Insurance Programs as of December 31, 1988
Release Date:
January 1989 (24 pages)
Posted Date:
December 9, 2020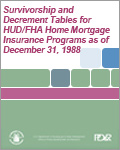 This historic document is a series of 30 tables pertaining to the performance of Federal Housing Administration (FHA) backed mortgages of a variety of ages and estimated life expectancies, as of December 31, 1988. The calculations were performed by the Actuarial Branch of HUD's Office of Financial Management.

This report is part of the collection of scanned historical documents available to the public.