The House that Jack's Building: a Marionette Play in Three Acts and One Interlude
Release Date:
January 1939 (35 pages)
Posted Date:
January 14, 2021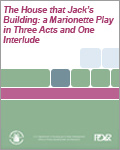 This historic publication is a script for a three-act marionette play advocating for government-built low-income housing. In the play, newlyweds Jack and Mary are victimized by their slum landlord, Lummox, and must make a case for decent accommodations.

This report is part of the collection of scanned historical documents available to the public.