Your Housing Rights
Release Date:
January 1973 (10 pages)
Posted Date:
January 14, 2021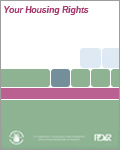 This historic pamphlet provides information about housing discrimination and the rights of homebuyers or renters in the form of a series of comic strips following three coworkers. Joe, who is African American, describes his difficulty finding a home close to his workplace, and his white and Latino co-workers, Pete and Manuel, express concern that he is being racially discriminated against and encourage him to contact HUD for help.

This report is part of the collection of scanned historical documents available to the public.