Prevention Programs Funded by the Homelessness Prevention and Rapid Re-Housing Program Executive Summary
Release Date:
August 2015 (9 pages)
Posted Date:
November 2, 2015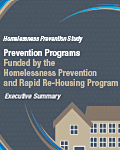 Launched in 2009 to help American families survive a deep recession, the Homelessness Prevention and Rapid Re-housing Program (HPRP) enabled the first ever large-scale implementation of homelessness prevention programs. HPRP distributed $1.5 billion in grant funding to 535 states, counties, cities, and U.S. territories, and approximately 2,500 other entities, mostly direct service providers, were subgrantees. As of September 30, 2011 (2 years into the 3-year program), HPRP had provided 909,192 people in 359,192 households with financial assistance and supportive services designed to prevent homelessness.
Click here to view the full report