Trends in Housing Costs: 1985-2005 and the 30-Percent-of-Income Standard
Release Date:
June 2008 (45 pages)
Posted Date:
July 12, 2008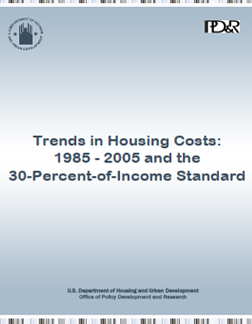 Public policy has focused on the ability of families both to acquire safe and sanitary housing in decent neighborhoods and to have sufficient income left over to purchase other essential goods and services. Over time, policy analysts have come to use "30 percent" as a standard to assess the affordability of housing. The belief is that households who have to pay more than 30 percent of their incomes for housing may be forced to forego other important needs. In this study, HUD looks at the adequacy of the 30-percent-of-income standard, while testing alternative methods of evaluating this question. The research also explores trends in the components of housing costs relative to income for owners with mortgages, owners without mortgages, and renters, respectively.