HUD's Office of Policy Development & Research Biennial Report FY 2017-2018
Release Date:
June 2019 (64 pages)
Posted Date:
June 26, 2019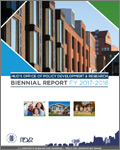 The U.S. Department of Housing and Urban Development (HUD), Office of Policy Development and Research (PD&R), is pleased to present its fiscal years (FY) 2017 and 2018 Biennial Report. The goal of this report is to inform those who use the data and research PD&R produces about who PD&R is, what PD&R does, and some input about how PD&R functions. The report highlights some of PD&R's most notable and transformative accomplishments over the past 2 years, from October 1, 2016 through September 30, 2018. It focuses on everything that makes up PD&R: the mission, people, funding, projects, data, dissemination and outreach, and partner engagement.