Improper Payment for Quality Control for Rental Subsidy Determination Study: FY 2015 Final Report
Release Date:
December 2017 (229 pages)
Posted Date:
December 1, 2017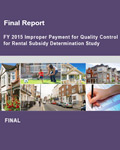 The U.S. Department of Housing and Urban Development (HUD) Quality Control for Rental Assistance Subsidy Determinations (HUDQC) Study provides national estimates of the extent, severity, costs, and sources of rent errors in tenant subsidies for the largest housing programs administered by the Office of Housing and the Office of Public and Indian Housing (PIH). These programs account for nearly all of HUD's current housing assistance outlays administered by the Office of Housing and PIH, as well as the majority of rental units assisted by HUD. This study was designed to measure the extent of administrator income and rent determination error by housing providers. It does not involve an audit of individual Public Housing Authorities (PHAs) or projects, nor does it monitor the implementation of housing programs. Its singular focus is to identify households for which an error was made in the calculation of the amount of the household's rent and to provide nationally representative findings related to those errors.

This report is part of the collection of Quality Control reports.
Click here to access the latest report in this series.