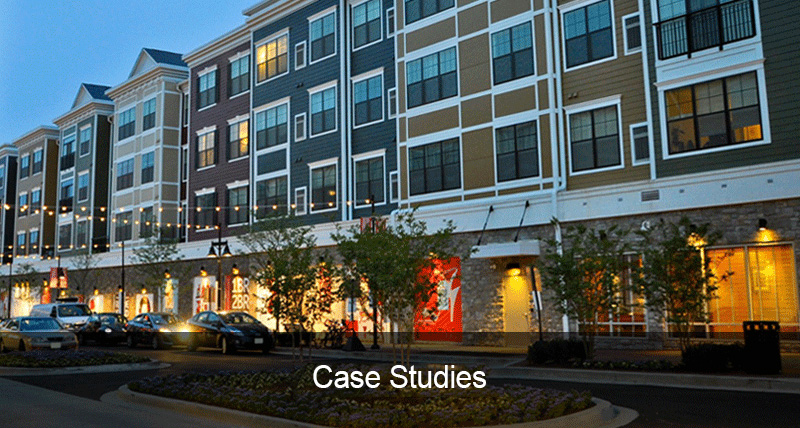 Home > Case Studies > Widener University: Embracing a Mission as an Anchor for Chester
Widener University: Embracing a Mission as an Anchor for Chester
Founded in 1821, Widener University is a private institution with over 6,000 undergraduate and graduate students. With approximately 1,000 faculty and staff, the university is one of the four largest employers in Chester, Pennsylvania, a city of about 34,000 in the greater Philadelphia region. Although only a mile from Chester's city hall, the university's 110-acre main campus is separated from downtown by I-95 and a set of four elevated railroad tracks.1
From the mid-20th century onward, Chester lost half of its population and nearly 90 percent of its manufacturing jobs; its unemployment rate currently hovers at around 15 percent.2 In recent years, the city's poverty rate has reached 32 percent, and the median household income of city residents is just $27,661, compared with $51,651 statewide.3 Chester also has high crime rates and distressed public schools.4
By the early 2000s, Widener's fortunes began to falter along with those of the city. Concern over crime and security on campus grew, enrollment declined, and Widener became increasingly isolated from the struggling city.5 When James T. Harris, III became president of Widener in 2002, he encountered a strained relationship between Widener and Chester, "born of years of frustration from a university with limited resources that was attempting to engage a city that was increasingly difficult to deal with due to all of the challenges associated with an urban community in decline."6
Committing to Civic Engagement
To address this estrangement, Widener considered two options. One was to further insulate the university from the surrounding neighborhoods by sequestering the freshman dormitories behind an eight-foot-high fence.7 The other was to renew the university's relationship with the community. The university's board of trustees acted on the latter option by hiring Harris to implement such a change.8 One of Harris's early decisions was to scrap the proposed fence in favor of building a figurative bridge, revitalizing both the campus itself and the institution's relationship with Chester.9 With the support and cooperation of the board of trustees, Harris convened a Strategic Planning Committee to include civic engagement as part of the university's mission.10 The university has adopted a commitment to "contribute to the vitality and well-being of the communities [it] serve[s],"11 and has proactively pursued partnerships of mutual benefit. Widener's once-fraught relationship with the city has been largely repaired. Public officials such as John Linder, Chester's mayor, now see Widener as an ally and an asset to the community.12
Although some faculty initially objected to the reorientation of the institution's mission, Widener University's commitment to civic engagement enjoys wide support from faculty, staff, and students.13 As a core mission, civic engagement informs the curriculum, student activities, faculty research agendas, and special projects and initiatives. Students engage in service-learning and community-service projects, faculty members pursue community-based research, and the administration takes on a leadership role in the city. Widener has pursued community engagement in such areas as healthcare, housing, and education (Table 1).14
Table 1: Examples of Widener University's Community Engagement
Program
Project
Project Description
Economic Development
University Crossings
Mixed-use development that generates tax revenue
Small Business Development Center
Consulting and educational services
University Technology Park
Resource-rich setting for businesses
Education
Widener Partnership Charter School
K-8 charter school of 350 students
Widener Reads/Widener Counts
Student tutors in 5 area schools
Service Learning
Community-based courses and research
Courses with service component or community emphasis
Community service incentives
Top scholarships tied to service
Housing
Walk to Work program
Savings incentives for employees who buy local homes
Health
Chester Community Physical Therapy Clinic
Free care to underinsured and uninsured Chester residents, staffed by graduate students
Widener has much to gain from strong community relationships and a revitalized Chester. "[W]hat we . . . learn[ed]," says Harris, "is that by creating democratic partnerships and not caring who received the credit, we could strengthen our academic offerings, make our campus more secure, and develop trust among key community stakeholders."15 The university's civic engagement has helped make Chester a more attractive place to live, work, and learn. Consequently, Widener is better able to recruit and retain both students and faculty.16 And taking a long view, Harris hopes that Widener Partnership Charter School and job training initiatives in particular "eventually will benefit the university by increasing the pool of qualified students, as well as provide the university with a trained local workforce."17
The university's renewed mission has also enhanced its national reputation. Widener has been recognized as an exemplar of institutional civic engagement. The university was among the first group of institutions classified as a Community Engagement Institution in Curricular Engagement as well as Outreach and Partnerships by the Carnegie Foundation in 2006, and it was recently named one of 14 Presidential Award finalists in the President's Higher Education Community Service Honor Roll.18
Supporting Economic Development
Central to Widener's impact as an anchor institution is its focus on supporting economic development in and around Chester. Widener-supported projects and programs, including University Crossings, University Technology Park (UTP), and the Widener University Small Business Development Center (SBDC), aim to facilitate economic activity and growth in the city.
The University Crossings housing and retail property is a cornerstone of Widener's efforts to enhance the economic development of its neighboring communities. An initiative jointly supported by Widener and Crozer-Chester Medical Center, and developed by Teres Holdings LLC, the $50 million project boasts a 48-room hotel, a 57-unit apartment complex, a bank, and a convenience store. Widener's contribution to the project is substantial — the university leases the property to the developer for $1 per year.19 Once home to tax-exempt Widener student housing, the University Crossings site now generates revenue for the city projected at $1.8 million in real estate taxes, $800,000 in income taxes from jobs created, and $600,000 in business privilege taxes over the development's first 10 years.20 With an estimated economic impact of $1 million per year, University Crossings has created 47 permanent jobs, of which 40 are full time.21 The first new bank to open in Chester in 15 years, the TD Bank branch "emphasizes local lenders making local loans," promising to support further development in the city.22
Whereas University Crossings houses retail and hospitality businesses, UTP, a 20-acre zone along the I-95 corridor, creates a resource-rich setting that will attract high-tech businesses to Chester. Another collaboration with Crozer-Chester Medical Center, UTP joins the research expertise and facilities of the university and medical center with the funding and incentives of the Keystone Innovation Zone Tax Credit program to offer an attractive place to do business.23 Founded in 1999, UTP offers many businesses tax incentives as well as proximity to I-95, Philadelphia International Airport, Crozer-Chester Medical Center, and Widener. UTP now has approximately a dozen tenants including Navmar Applied Sciences Corporation, Education Dynamics, and mTekka, LLC.24 Although UTP originally had two buildings available for high-tech businesses, one has since been repurposed to house the Widener Partnership Charter School, one of the anchor institution's key educational projects.25
In addition to attracting existing businesses to Chester, Widener fosters home-grown innovation and entrepreneurialism. Founded in 2007, Widener's SBDC, offers free consulting services and low-cost educational workshops to aspiring entrepreneurs. SBDC provides support covering a range of topics relevant to small business owners including accounting, human resources, marketing, and technology.26 When Cheryl Stevens sought to expand her soul food take-out window into a restaurant and catering business, for example, SBDC provided financial and business consultation services that helped her move to a new location. Students from the Widener School of Hospitality Management provided additional consultation on the layout and renovation of the new restaurant.27 Since the center opened, it has provided services to more than 1,450 clients, who in turn have started 124 businesses and created more than 500 jobs.28 The SBDC has received recognition from the U.S. Small Business Administration as the winner of the 2013 SBDC Excellence and Innovation Award for the Eastern Pennsylvania and Mid-Atlantic Region.29
Widener has also been proactive in working toward the revitalization of the dilapidated Alfred O. DeShong Museum, which now belongs to Delaware County. To develop the property, Widener is working with city and county officials, the Pennsylvania Humanities Council, and community members as well as a Fellow from the Strong Cities, Strong Communities Initiative (SC2), a federal program designed to facilitate economic development. Julie Dietrich, Widener's director of special projects and initiatives, says the efforts are "a catalyst project to help spur economic development through the arts," with the ultimate goal of creating "an arts and culture corridor between Widener and City Hall."30 Widener's participation in the project has added symbolic significance because the property is located on the opposite (eastern) side of I-95, which has historically served as a barrier between Widener and downtown Chester.
Anchoring Chester
In part because of Widener University's efforts, Chester's fortunes may indeed be turning. A recent study of suburban revitalization notes that "the positive impact of Widener . . . is evident in the northeastern section of the city."31 In addition to Widener's economic development projects, the opening of Harrah's Philadelphia Casino and Racetrack in 2007 and PPL Park (the home stadium of Major League Soccer's Philadelphia Union team) in 2010 portend a brighter future for Chester.32 As one of six pilot cities in the federal SC2 Initiative, Chester will leverage existing resources, including anchor institutions such as Widener, to fuel its continued revitalization.33
By embracing the role of an anchor institution and actively seeking mutually beneficial relationships with surrounding neighborhoods, Widener University has contributed to a positive change in the political dynamics of Chester. As one study observes, "Chester is rebuilding a public-private leadership group and capitalizing on a new culture of collaboration and trust that enables it to tap leaders from anchor institutions and the private and nonprofit sectors to move the civic agenda forward."34 Widener is well positioned to maintain its leadership role in collaborative efforts to promote the economic revitalization of Chester.
---
Widener University. "About Widener." Accessed 7 June 2013.

Alan Mallach. 2011. "In Philadelphia's Shadow: Small Cities in the Third Federal Reserve District," Federal Reserve Bank of Philadelphia, 5, 19, 36-7. Accessed 23 May 2013.

U.S. Census Bureau, American Factfinder. Accessed 2 June 2013.

James T. Harris III. 2009. "The President's Role in Advancing Civic Engagement: The Widener-Chester Partnership," New Directions for Youth Development 122:107–26, 109–10.

Stephen C. Wilhite and Paula T. Silver. 2009. "A False Dichotomy for Higher Education: Educating Citizens vs. Educating Technicians," National Civic Review 94: 46-54; Terrence MacTaggart. 2011. Leading Change: How Boards and Presidents Build Exceptional Academic Institutions. Washington, DC: AGB Press, 57.

Harris, 108.

Ibid., 107.

MacTaggart, 57.

MacTaggart, 187.

Harris, 112.

Widener University. "Mission." Accessed June 4, 2013.

Interview with Julie Dietrich, May 2013.

MacTaggart, 54.

Widener University. "Economic Development." Accessed 2 June 2013; ibid. "School Partnerships." Accessed 22 May 2013; ibid. "Service Learning." Accessed 5 June 2013; ibid. "Presidential Service Corps Scholarships." Accessed 5 June 2013; "In Practice: Meeting the Challenges of Suburban Poverty," Evidence Matters, Winter 2012, 16–22. Accessed 7 June 2012; Widener University. "Chester Community Physical Therapy Clinic." Accessed 2 June 2013.

Harris, 108-9.

Ibid., 125.

Ibid.

The Carnegie Foundation for the Advancement of Teaching. "All Classified Community Engagement Institutions (2006, 2008, and 2010)." Accessed 7 June 2013; Corporation for National and Community Service. "President's Higher Education Community Service Honor Roll." Accessed 23 May 2013.

Dan Hanson, email correspondence, 3 June 2013.

David Perry and Carrie Menendez. 2011. "The Impact of Institutions of Higher Education on Urban and Metropolitan Areas," The Great Cities Institute at the University of Illinois at Chicago, 16. Accessed 3 June 2013.

Dan Hanson, 3 June 2013.

PRNewswire "TD Bank Builds New Store at University Crossings in Chester," press release, 25 August 2009. Accessed 3 June 2013.

Mallach, 60.

Interview with Glenn McAllister, June 2013.

Interview with Joe Baker, June 2013.

Widener University Small Business Development Center. "Overview of Services." Accessed 22 May 2013.

ibid. "Cheryl's Southern Style." Accessed 22 May 2013.

Ibid. "Impact." Accessed 22 May 2013.

Philadelphia District Office, U.S. Small Business Administration. "News Release," 23 May 2013.

Interview with Julie Dietrich, May 2013.

Kathryn W. Hexter, Edward W. Hill, Brian A. Mikelbank, Benjamin Y. Clark, and Charles Post. 2011. Revitalizing Distressed Suburbs, 19-20. Accessed 7 June 2013.

Hexter et al., 17.

U.S. Department of Housing and Urban Development. "Obama Administration Launches Strong Cities, Strong Communities to Support Local Development," news release, 11 July 2011. Accessed 7 June 2013.

Hexter et al., 3.