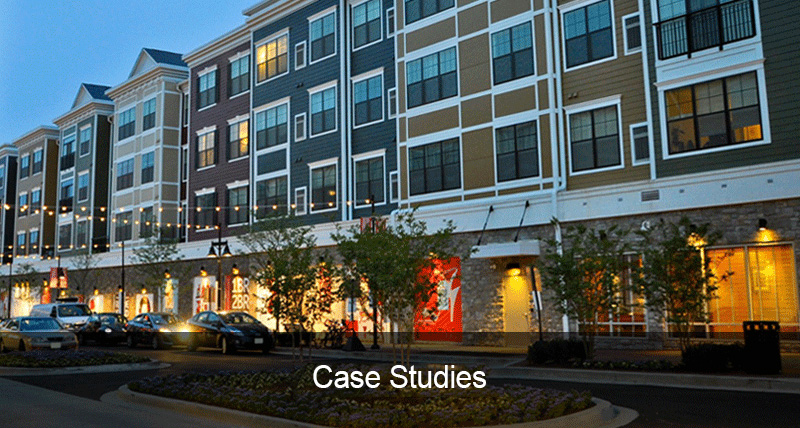 Home > Case Studies > University of Maryland, Baltimore Prioritizes Community-Led Revitalization
University of Maryland, Baltimore Prioritizes Community-Led Revitalization
In the mid-1990s, a tense relationship existed between the University of Maryland, Baltimore (UMB) and residents of the low-income Poppleton neighborhood in West Baltimore. Poppleton's leaders made it clear that Martin Luther King Boulevard was a boundary not to be crossed; no faculty member or student was welcome unless invited by a community member. Residents did not trust the university's intentions and were angered by the University of Maryland Medical Center's research in their community.
David Ramsay, UMB's president from 1994 to 2010, took steps to improve the university's relations with Poppleton and other communities in the city. UMB's Social Work Community Outreach Service (SWCOS) played a major role in this effort because of its goal to become "a symbol of the School in the community," as well as its mission of social work education and fieldwork in local communities.
Community Voices Are Heard in West Baltimore Initiatives
UMB's receipt of a Community Outreach Partnership Centers (COPC) grant from HUD in 1998 helped accelerate the work that SWCOS and other UMB schools were already doing in West Baltimore. That work was being carried out in conjunction with federal empowerment zone (EZ) programs that had begun in 1994. With EZ funding, Baltimore had created village centers — organizations comprising neighborhood groups, nonprofit organizations, and community leaders — to improve health and economic conditions in distressed areas. SWCOS relied on that civic infrastructure to make the most of the COPC grant. In addition, Ramsay asked community leaders, village center board members, and others to formulate a work plan for the COPC grant. According to Bob Kirk, program manager in UMB's Office of Academic Affairs, this collaboration helped alleviate community concerns about the university's involvement in their neighborhood.
The West Baltimore Empowerment Initiative was the major effort funded by the COPC grant, implemented by faculty and students from SWCOS and the schools of Medicine, Law, Nursing, and Pharmacy and by the village centers and community residents in Washington Village/Pigtown, Poppleton, Harlem Park/Lafayette Square, and the Self-Motivated People's Community of West Baltimore. Law students and volunteers initiated crime reduction and antidrug strategies that included shutting down drug houses and organizing public safety meetings, neighborhood cleanups, and programs to get youth off the streets. Students from several colleges within UMB successfully collaborated with the village centers on strategies to improve youth education and community health. To enhance the community's capacity to respond to local issues, SWCOS worked with neighborhoods to identify more than 100 community leaders; more than 4,000 community residents became involved in village center activities between 1999 and 2003. New job placement programs helped an average of 309 residents find jobs each year from 1998 through 2003. SWCOS started a successful reverse-commute program, which at its peak in late 2001, transported 120 individuals each week to higher paying jobs outside of West Baltimore; the program added an estimated $2.5 million annually to the local economy.
After a year of this work, Poppleton's impression of the university began to change. Neighborhood leaders contacted SWCOS to help develop a playground at a neighborhood school. With SWCOS's assistance, school officials and community members agreed on a design and installed the equipment. The successful project laid the foundation for future collaboration on more substantial development in the neighborhood.
Expanding Community Engagement in Development to East Baltimore's Neighborhoods
Witnessing the progress achieved in West Baltimore, East Baltimore residents held their own meetings to identify challenges in their neighborhoods, including a lack of housing options, racial and ethnic tension, pockets of concentrated poverty, health issues, and a decentralized community structure. Those problems had existed for some time but were being exacerbated by gentrification and the expansion of Johns Hopkins University.
UMB applied for and received a COPC New Directions grant in 2004 to expand its work into East Baltimore. Enabling collaboration between the city and community organizations, neighborhood associations, and faith-based organizations in the Patterson Park, Jonestown, Harbor East, Upper Fells Point, McElderry Park, Patterson Park, Butchers Hill, Washington Hill, and Dunbar-Broadway neighborhoods, the grant produced concrete results that addressed many of East Baltimore's concerns. The grant supported housing and credit counseling in approximately 300 individual and 70 group sessions. Neighborhood meetings and activities, facilitated in part by SWCOS interns, enhanced cultural communication in the target area. A local organization developed the advocacy and leadership skills of neighborhood youth. Resource and health fairs provided information on health and life skills for seniors and Hispanic residents in the community.
Bridging the Boulevard
The University of Maryland BioPark is perhaps the most visible evidence of improved relations between UMB and Poppleton, and of the economic progress made possible through their collaboration. In 2002, the community asked the UMB president to help them plan an economic development project on abandoned land that had been drawing drug-related activities to the area. After listening to residents' comments about the property in numerous community meetings, Ramsey suggested a development the university had been studying, a biomedical research park. Through continuing discussions, residents gradually accepted the idea of a major UMB facility on Poppleton's side of Martin Luther King Boulevard. As part of the BioPark's development, UMB pledged to meet Baltimore's Minority Business Enterprise and Women's Business Enterprise goals. By 2012, the BioPark had acquired 12 acres of land with the community's support, erected several research buildings, and created 550 jobs. A campus police substation has improved safety in the area, and the removal of vacant buildings and addition of green space have made the area more vibrant. The first bank branch in more than 20 years, Harbor Bank of Maryland, has located in the neighborhood, providing financial services for BioPark employees and Poppleton residents.
The Irona Pope Scholarship is another example of UMB's respect for community-led revitalization. Awarded to students from Baltimore in the SWCOS master's program who are planning to work in the city after graduation, the scholarship honors an East Baltimore community leader who worked closely with SWCOS as a member of its Community Advisory Board.
A Welcome Anchor in Baltimore
Beyond the work funded by the COPC and New Directions grants, SWCOS has served the city through its mission to educate its students and serve the community. SWCOS hires field instructors to supervise social work students in areas where social services agencies are not active. According to Dick Cook, former director of SWCOS, the students' work has helped increase the number of community-based organizations in the city's neighborhoods and strengthen their presence in the city. Social work students have helped provide new libraries and playgrounds at public elementary and middle schools. Many former social work students have moved into the neighborhoods where they once worked, are establishing community organizations, and are leading revitalization efforts with the communities' support.
UMB continues to participate in targeted programs as well as broad-based revitalization efforts. In 2012, SWCOS launched Baltimore's Family Stability Program of Brooklyn-Curtis Bay, part of a national initiative of the Siemer Institute for Family Stability, to support families at risk of homelessness. Also launched in 2012 and operated by SWCOS, ReServe Maryland connects older professionals with overburdened nonprofits; SWCOS has formed an advisory council of community leaders to facilitate the program's response to community needs. SWCOS interns are addressing the mental well-being of youth through the Turnaround Schools Mental Health Program, which provides counseling, outreach, and case management to targeted students at Baltimore's Benjamin Franklin High School. SWCOS is also working with the Advancing Community Schools in Baltimore coalition to implement the community school concept at all Baltimore city public schools. Jay Perman, UMB's current president, has shown a substantial commitment to community revitalization through his co-chairmanship of the UniverCity Partnership, a collaboration of 100 partners seeking to revitalize the Westside neighborhood.
UMB and SWCOS have made a significant difference in their home city. Both have become trusted institutions and partners in neighborhood revitalization, joining with partners across Martin Luther King Boulevard and around the city. The university's commitment to community engagement has shown that public participation is vital to paving the way for locally led revitalization and economic development.