Report to Congress on the Feasibility of Creating a National Evictions Database
Release Date:
October 2021 (88 pages)
Posted Date:
November 16, 2021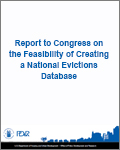 The Joint Explanatory Statement and the House Committee Report supporting the 2021 Appropriations Act directed the Department of Housing and Urban Development (HUD) to study the feasibility of creating an evictions database, including collecting information on three types of evictions:
Formal court-ordered evictions,
Extra-legal evictions, and
Administrative evictions.
The House Committee Report also requested that HUD examine strategies for collecting data on the characteristics of tenants and landlords involved in the eviction process and providing recommendations for statistical analyses of the data collected. House Committee Report H.R. 116-452 contained a similar request for a feasibility study. This feasibility assessment responds to both requests.
The report reflects research by staff from HUD's Office of Policy Development and Research (PD&R) into the three types of evictions, including what data sources are available for each eviction type and how researchers and other stakeholders have sought to collect and analyze data related to evictions. PD&R staff also consulted with approximately a dozen key stakeholders to learn about the challenges of and opportunities for collecting data on eviction. The result is a report that provides background on the need for an eviction database (Chapter 1), a detailed discussion of lessons learned to date from efforts to collect data on court-ordered, extra-legal, and administrative evictions, including evictions of HUD-assisted households (Chapter 2), and a set of potential approaches for how HUD could move forward to build a national dataset on evictions, assuming additional federal funding and action from Congress (Chapter 3).