Housing Choice Voucher Success Rates and Administrative Practices
Release Date:
June 2003 (76 pages)
Posted Date:
December 31, 2020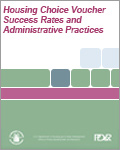 This historic report examined the rate of success of Housing Choice Voucher recipient households in obtaining a subsidized unit at seven test public housing authorities (PHA) sites across the country. The success rate for sites in this study ranged from 76 percent to 96 percent.

This report is part of the collection of scanned historical documents available to the public.