A Health Picture of HUD-Assisted Children, 2006–2012
Release Date:
March 2018 (50 pages)
Posted Date:
March 26, 2018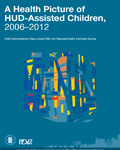 The U.S. Department of Housing and Urban Development (HUD) and the National Center for Health Statistics agreed in 2011 to link administrative records for individuals receiving housing assistance from HUD with records from the National Health Interview Survey. This report uses the linked data for 2006 through 2012 to present nationally representative estimates of demographic characteristics, health diagnoses and conditions, and health care access and utilization for HUD-assisted children ages 0–17. To provide context, similar estimates are provided for two other relevant subgroups: children residing in unassisted renter households with incomes below the federal poverty line and all children in the U.S. population. The report presents raw prevalence estimates to reflect actual conditions for each subgroup, and does not make statistical adjustments for age or other factors to support cross-group comparison of health conditions for similar individuals. Results demonstrate that assisted children suffer disproportionately from serious health conditions.