Scaling Solutions II: A look at best practices in successful public-philanthropic partnerships
Release Date:
January 2020 (26 pages)
Posted Date:
January 8, 2020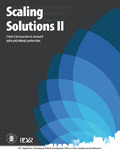 This report describes the public-philanthropic partnerships that received the Secretary's Award for Public-Philanthropic Partnerships over the past few years. Specifically, it describes the success of the Gulf Foundation, HOPE SF Foundation, City Alive Foundation, the Legacy Foundation, the Community Foundation of the New River Valley, the Skillman Foundation, the Seattle Foundation, and the Greater Kanawha Valley Foundation. Within the report, the strategies used by each partnership to increase the quality of life for low- and moderate-income residents are discussed. The report further describes the importance of successful partnerships and local solutions.