Welfare to Work Voucher Evaluation: Interim Report on Qualitative Research
Release Date:
September 2002 (97 pages)
Posted Date:
March 9, 2017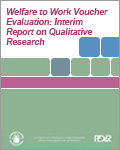 In February and March 2002, Abt Associates completed qualitative, in-person interviews with 75 individuals who are part of the evaluation of the Welfare to Work Voucher (WtWV) program. These interviews provide the first in-depth look at the experiences of WtW voucher recipients and the kinds of housing and employment choices these families have made since voucher issuance. The WtWV program was authorized by Congress in fiscal year 1999 and implemented in 131 public housing agencies (PHAs) beginning in December 1999. The program offered tenant-based rental assistance vouchers to current and former recipients of Temporary Assistance for Needy Families (TANF) as well as families eligible for TANF. The purpose of the rental assistance is to help voucher recipients in their transition from welfare to economic self-sufficiency. Abt Associates and its subcontractors, the QED Group LLC, Amy Jones and Associates, and Johns Hopkins University, are conducting the evaluation of the program under contract to the Office of Policy Development and Research of the U.S. Department of Housing and Urban Development (HUD).

This report is part of the collection of scanned historical documents available to the public.